Mike Brun is an American composer, performer, orchestrator, and producer known for the wide range of his projects. His broad skillset and eagerness to collaborate have led to a kaleidoscopic young career – with work taking him from the brightest stages to the dustiest DIY spaces, from cozy coffeehouses to 10,000-seat arenas.
Brun has been heavily involved in the New York theater scene since 2012. He is one of the ten composers of Folk Wandering, an American celebration of the untold grief that moves us forward. Folk Wandering enjoyed an Off-Broadway run in 2018 (4/5 stars, TimeOut), as well as sold out performances in previous years at Joe's Pub, Walkerspace at Soho Rep., and the Merriam Theatre. His musical Bull's Hollow is in development as a commission from Ars Nova via a grant from the Jerome Foundation. The Bull's Hollow creative team was also selected to be part of the Civilians 2014 Research & Development Group.
Brun working with Shaina Taub and The New York Pops Symphony at Carnegie Hall
Other notable theater credits include: music director/onstage musician for Mr. Burns (Playwrights Horizons 2013); orchestrator and bandleader for Twelfth Night (Delacorte, 2018); co-arranger/onstage musician for Old Hats (Signature Theatre, 2016); orchestrator for Monsoon Wedding (Berkeley Rep, 2017).
Brun is a go-to sideman for multi-instrument versatility and thoughtful arrangement. Among many acts, he has played for Cristin Milioti, Krystle Warren, Kate Davis, Jacob Snider, Mark Sonnenblick, and is a fixture of Shaina Taub's band. Click here to listen to Shaina Taub's album Die Happy, which Brun co-produced, played on, and contributed the string & horn arrangements.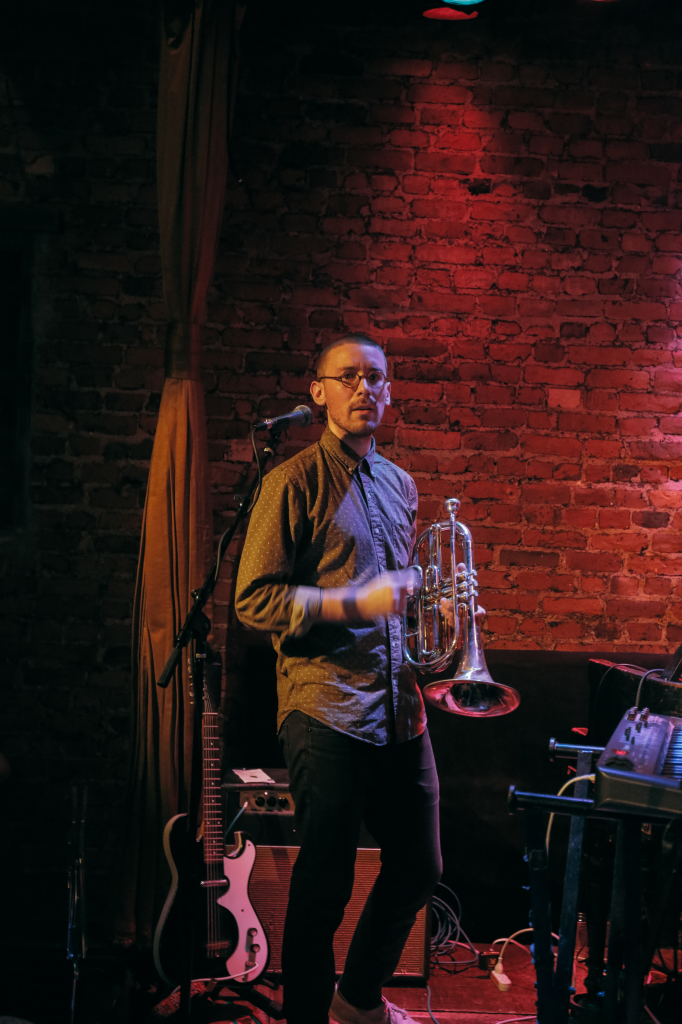 A composer-crooner himself, Brun has established a brand of hypnotic, intelligent music all his own. His most recent album is entitled there is no river strong as me - click here to listen. In 2019, he performed his song "fork in the road" as part of Freddie Falls In Love, a narrative dance piece by Emmy-nominated choreographer Al Blackstone. Brun is a fellow of the Johnny Mercer Foundation Songwriters Project.
Brun is currently a Graduate student at NYU, pursuing a Master's degree in Screen Scoring. Click here to peruse his Screen Scoring Bio and work samples.